The Mercure Grenoble Meylan hotel, 100% privatisableIt offers 5 modular meeting rooms. Access to the outside is highly appreciated. In addition to these spaces, including our atypical FUNPARK, there is a bar with a coworking area and a restaurant with a terrace. You wish to privatise one of our modular living spaces, organise a cheese eveninga company party, dramatize your event ? With or without animation? CoContact us via our online form for a quote and receive our banqueting and privatisation offers. Minimum 30 people.
Our more
60 rooms (23 twins)
Car parking (90) bus parking (1)
Daylight rooms (305m²)
Plenary (180m2), 130 people maximum
Coworking space, Restaurant, Terrace
The 5 plenary rooms at the Mercure Grenoble Meylan can be arranged in a variety of ways. They are also suitable for aperitifs, cocktails, buffets, sit-down meals, sit-down or stand-up meetings. They can thus make it possible to exhibit up to two vehicles indoors. For a fun and atypical meeting: FUNPARK!
The rooms Mercure Grenoble Meylan :
"Kite surfing and paragliding 100m² - Height 2.80m - capacity 66 persons

"Funpark" 110m² - Height 2.80m - capacity 70 people
"Paragliding and hang-gliding 125m² - Height 2.80m - capacity 80 persons
"Kite surfing " Paragliding " Hang gliding " 180m² - capacity 130 people
The equipment 
Mercure Grenoble Meylan 
:
video projector, 
paperboard,
criterium, notepad, easel 
wifi included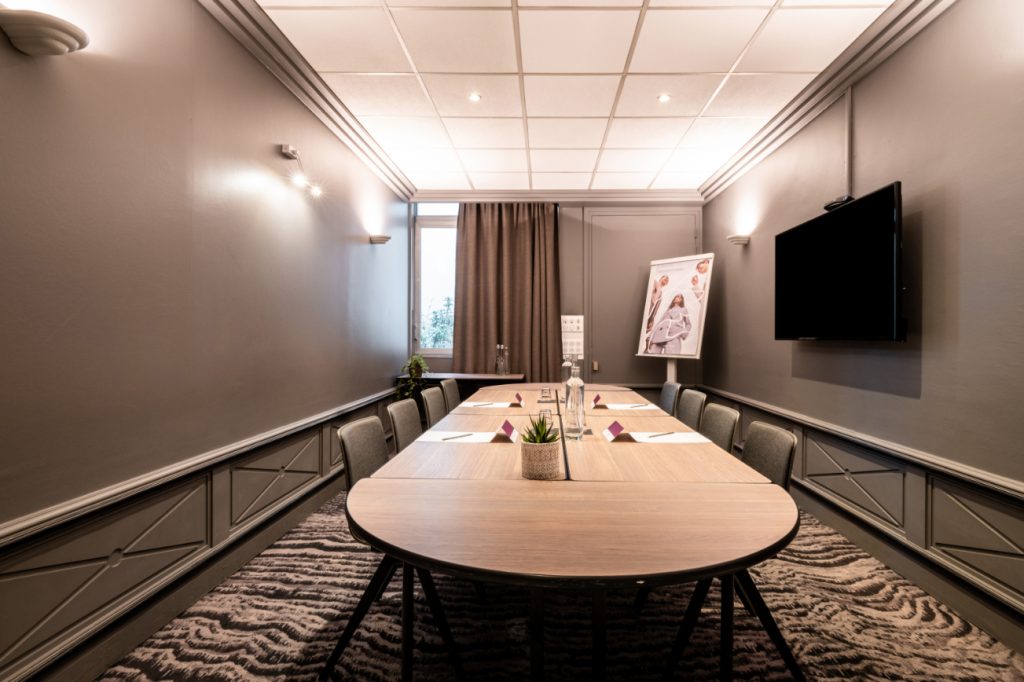 Mercure Grenoble Meylan offers 1 renovated sub-commission room, located on the ground floor. It offers high quality technological equipment and is exposed to daylight.

Our more
Temperature control device

Selective sorting device
Wi-Fi access included
The terrace, which is very pleasant in fine weather, is located in the extension of the restaurant-boutique "A l'Epicerie" in our Mercure Grenoble Meylan hotel. Take advantage of this natural and peaceful setting to organise your private or corporate event. 
Ideal for :
Cocktails & aperitifs - 70 people maximum
Barbecue lunches and dinners - 35 people maximum

The afterwork

Brainstorming
Please fill in this form for more information,
we will reply as soon as possible.
* Mandatory fields. This information will remain confidential and will never be passed on to any organisation whatsoever. ** By submitting this form, you agree that the information entered in this form may be collected, used and processed, in whole or in part, to enable us to contact you in connection with your request (whether for information, a quotation or a proposal for collaboration (...)), by e-mail, by telephone, and/or for the sending of commercial and promotional communications relating to the products and services of the hotels in the Atypio network.
** Read more
This site is protected by reCAPTCHA and
privacy policy
and
the conditions of service
apply.